Market News for Saturday, June 18, 2011
Todd and I will be at the Charlotte Regional Farmers Market Saturday from 8am til 12pm.  We will be in the Open Air Building A.
Here's a list of what we will have at the markets.
Chioggia Beets
Green Beans ~ Provider ~ Stringless
Squash
Zucchini
Cucumbers
Farm Updates
This week we've been starting more seeds in the field.  We started some more squash and zucchini seeds.  Also, we planted some Purple Queen beans and Carson Yellow Wax beans this week.  I can't wait to see both of these beans on the farmers market table.  I know we are a little late planting them but we've got some other green beans already in the field.  Also, we hopefully will transplant a good amount of plants today.  We have loads of tomatoes, hot peppers, more squash, cucumbers, and who knows what else that we need to get in the ground today.  Oh, and guess what I saw in the field yesterday?  Watermelons and Canteloupes!!  But they aren't ready yet and I'm not sure if my mother-in-law will let me bring the canteloupes to market since she planted them.
Check out the picture I took yesterday!!  It looks way bigger than it actually is.  It's not quite the size of a baseball.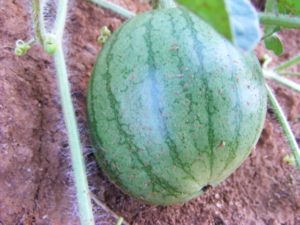 See you at the market!
Todd and Marnita Causby