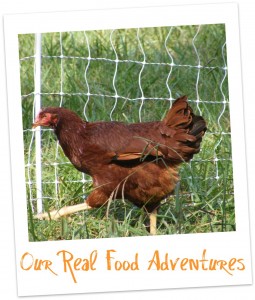 We went to the farmers market this past Saturday for our usual real food shopping trip. We didn't buy hardly anything because, frankly, we didn't have the money to. I bought a pastured chicken (around 4 lb.) and a pack of chicken livers. The only other thing we bought was two cranberry muffins and two cheese danishes from the bakery there. My son loves getting a muffin every time we go to the market so, of course, I always let him get one. And this time we also had to get another muffin for my nephew who was back at the farm with his grandmother. We didn't want to leave him out.
We also didn't see our lamb farmer at the market. So, when we got back home, I called him to see if he had any lamb shoulder roasts and he did. We were hoping to get some lamb so we could have it with our Easter dinner. Thank goodness he had some. So, we made the drive over to his farm in Grover, NC – Glencora Farm. His small farm is so incredible looking. I mean, it definitely made us feel good because every little thing does not look exactly perfect. I know Todd hates it when the weeds get too high or he has a pile of something in this corner on our farm. Anyways, but this farm, small as it may be is absolutely breathtaking when you are coming up to his house. It is on some bottom land if you know what that means. And it has amazing green pastures and a chicken tractor that Todd wants to build. It just made us feel so farmy! 🙂
We got a lamb shoulder roast (about 2 1/2 lbs) and one pound of fresh Asparagus from Glencora Farm.
We ate the fresh asparagus Sunday night with some steaks and some baked potatoes. They were absolutely delicious. We grilled out everything. The potatoes were wrapped in aluminum foil and placed in a bucket of hot coals and then placed hot coals on top of them. Then the steaks and asparagus were both cooked on the grill. We hardly ever eat asparagus but I think that is about to change. It is delicious. If you like baby sweet peas, then I think you will absolutely love asparagus. We do. And if our farmer has any this coming Saturday, then we'll be having it at the Easter dinner with the family.
So, here's a list of the breakdown of what we spent on fresh food this past Saturday.
1 – 4 lb. whole chicken (pastured) – $16  Red Dirt Ranch
1 pack of chicken livers – $4  – Red Dirt Ranch
2 cranberry muffins – $4  – Nova's Bakery
2 cheese danishes – $4  – Nova's Bakery
1 lb. fresh asparagus – $4  – Glencora Farm
1 – 2.4 lb. lamb shoulder roast – $21  – Glencora Farm
for a grand total of $53
Let me know how your real food adventure is going!