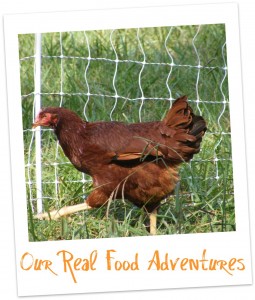 Well, this week has been just crazy.  We haven't been eating like we should that's for sure.  We had no power starting Monday night due to the storm that came through but it was turned back on Tuesday night around 9pm. I was at work all day Tuesday so it didn't affect me too much.  It did however affect Todd and the children.  Instead of cooking something for lunch, I picked up some nasty fast food.  But the good part is that we did eat scrumptously delicious free range eggs and uncured not smoked bacon from pastured pigs Tuesday evening for supper.  I have never had eggs that tasted so good.  Honestly.  Normally, I'll load them up with sour cream and salsa or ketchup for that matter.  Now, sometimes I'll eat them plain but honestly they were so good Tuesday night.  Amazing.  And the yokes on those eggs were so orange.  It was so awesome.  I love knowing that I'm eating real food.  Fresh, good for you food.  And what was so horrible was that we had put a Lamb roast in the crock pot to cook overnight Monday night so we could eat on it at lunch Tuesday.  And guess what?  We had to throw it away.  Talk about being a little mad.  I definitely was.  But, you do what you have to do and move on.  And that's what we did.
Okay.  Our goal in this Real Food Adventure is to eat whole foods traditionally prepared like what Sally Fallon talks about in the book, Nourishing Traditions.   And we definitely haven't done that every day yet.  We do use the right fats/oils when we cook such as coconut oil, butter, and lard.  We do drink raw milk.  We use Celtic sea salt to season our food.  We do so many things but we still aren't getting organized enough to prepare real foods at every meal.  Either we don't plan enough time to eat breakfast (for me, unfortunately) or we don't plan our meal out ahead of time to get our real food ingredients ready.  It is so hard to cook or at least prepare for every meal when you aren't used to doing it.
We need to have a tool that will help us plan out our meals.  And plan out how to get our week organized with when to do what.  I think I found something.  It's the menu plan at GNOWFGLINS.com.  She has a sample menu plan that you can try out before you buy.  I'm not sure we're going to buy anything yet.  We are hopefully going to start using the sample plan this weekend.  I'll let you know how it goes.  I'm trying so hard to get this Real Food Adventure going.  We just seem to be following off the wagon over and over again.  We'll just keep pushing forward until we get it right.
This post is part of Food Renegade's Fight Back Friday, GNOWFGLINS Simple Lives Thursday, Kelly The Kitchen Kop's Real Food Wednesday, and The Nourishing Gourmet's Pennywise Platter Thursday.